The Winery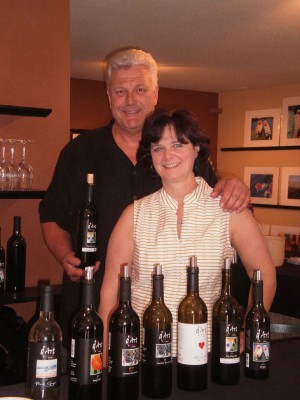 Helen and Dave Dart started their dream as home winemakers with a passion for great wines. After winning several awards in that category they decided to make small lot commercial wines to share with like-minded enthusiasts.
Dave blends his creativity for art and wine by creating rich, bold, colorful, Wines in the bottle with his artwork on the bottle and in the tasting room art gallery. Helen has created a warm inviting tasting room that is hip, informative and comfortable. The infusing tastes, sights and sounds will fill your experience.
Explore the Estate Cabernet Sauvignon vineyard and have a picnic on the lushly manicured grounds. Enjoy yourself with old and new friends where laughter and wine feed the soul.
Our wines include Estate Cabernet Sauvignon, Barbera, Tempranillo, Zinfandel, Petite Sirah, Dog Day Red and Port along with small lot wines only available to Club Members. The Dog Day Red is a proprietary blend of one barrel of everything we make, and then we blend in 20% Port and age it in Hungarian oak barrels.